Romantic Interludes At The Venetian Resort
Hotel Rating


Filed under All Hotels, The Strip Tags: 5 Star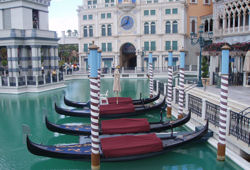 Even if you have not gone to Venice yet, you'll get a taste of its romanticism and sophistication at The Venetian Resort in the heart of the Las Vegas Strip. Everything Venice is known for, such as gondolas, frescos, the classic gourmet food, and the strolling performers, are featured in this magnificent, luxury hotel.
The lobby is already a sight to behold. In fact, it is quite common to see tourists and hotel guests taking a moment to capture in film the beautiful fresco on the ceiling. Luxury and comfort scream in every nook and corner of the hotel rooms. At the newly opened Venezia Tower, guests are sure to get the best time of their life in the 700 square-foot suites with the 9.5-foot ceilings, 130-square-foot bathrooms, three telephone systems, and a couple of 27-inch flat screen television, among others. A concierge is ever ready to assist the happy guests with anything they need. Daily newspapers, coffee or tea may be delivered right into their rooms. They can also request for wake-up calls, and DVD players should they wish to get entertainment in their rooms.
The Venetian Resort is also a shopping paradise. The Grand Canal Shoppes has a total area of 500,000 square feet. Those who are much into shopping, will find Grand Canal Shoppes a haven. A canal winds through it, and gondolas quietly pass by along the length of it.
The Madame Tussauds wax museum is a must see for the visitors. Get face to face encounters with life-like wax impressions of your favorite Hollywood celebrities and sports heroes, like George Clooney, Whoopi Goldberg, and Tiger Woods, just to name a few. The Madame Tussauds wax museum is the next best thing to meet your fave stars up close.
Dining is truly a mouth-watering experience in this hotel. Five-star restaurants by famed culinary greats Wolfgang Puck, Emeril Lagasse, Thomas Keller, Joachim Splichal, and Paulo "Zeffirino" Belloni attract the sophisticated taste buds of food lovers.
If you're looking for some great pampering, the Canyon Ranch Spa Club will give you the best of what you deserve. The largest spa in all of Las Vegas, Canyon Ranch Spa Club also takes pride in its 62 treatment rooms and extraordinary service. You can also take a refreshing dive in the pool's crystal blue waters at the rooftop.
Clearly, you do not have to go to Venice to experience great romantic interludes. The Venetian Resort at the heart of the Strip will give you the same feel as if you are just in Venice.