Exotic Luxor
Hotel Rating


Filed under All Hotels, The Strip Tags: 4 Star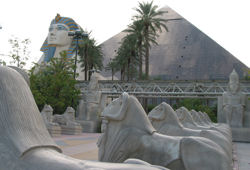 When you are in Las Vegas and you see a strong beacon of light shining towards the sky, you will know that Luxor cannot be far behind. Anyone visiting the southern portion of the Strip of Las Vegas will certainly not miss the black 30-story glass pyramid that is Luxor.
Luxury, in terms of accommodation, dining, entertainment and amenities, abounds in this very imposing, ultra magnificent structure. Luxor contains the largest atrium in the world, as well as one of the biggest casinos in Last Vegas with 2,000 slot machines and video poker machines, table games, and a race and sports book.
Luxor is undergoing many changes and it will continue to do so until 2009. One major change is the eventual shedding of its Egyptian image which has, for a long time, been a characteristic feature of the hotel. Visitors will get to see modern lounges, restaurants and clubs, although some prominent Egyptian features will still be in place. The 100,000 square-foot casino will be remodeled and will assume a new look before the close of the year 2008.
Dining is extraordinary at Luxor. Visitors and guests will definitely fall in love with the Asian dishes at Fusia and the gourmet offerings of Luxor Steakhouse. They will also like the chic Company American Bistro, a restaurant with celebrity investors like heiress Nicky Hilton, Wilmer Valderrama and Nick Lachey. Cathouse is a favorite hangout place with a wide range of dishes specially made by Executive Chef Kerry Simon and performers showing off Cathouse's lingerie line.
Luxor has a wide pool deck where sun lovers can glory in the rays of the sun or take a swim in the pool, or a sauna bath in Nurture, Luxor's spa.
Kids and adults alike will enjoy the offerings at the atrium level. Games of the Gods video arcade and the recreation of King Tut's Tomb are only some of the games that can be played there. Various shows can be seen on this floor. A particular crowd favorite is Carrot Top who never fails to entertain his audience with surprising antics. Come Summer 2008, Cirque du Soleil will have magic shows featuring Criss Angel, a resident of the hotel and a 5-time holder of the Magician of the Year award, who, at one time, levitated over the Luxor's beam.
Nightlife at Luxor is much talked-about. The LAX Nightclub is a two-storey club frequented by celebrities such as Britney Spears, Nicky Hilton, P.Diddy, and even George Clooney. If you belong to the high society crowd, the exclusive Noir Bar will keep your hormones raging.
People who have gone to Luxor will attest that this great pyramid of a hotel is as dazzling and exotic as the pyramids of Egypt, France, and Greece.
Average User Reviews