Experience Hotel Accommodation At Its Best In Bellagio
Hotel Rating


Filed under All Hotels, The Strip Tags: 5 Star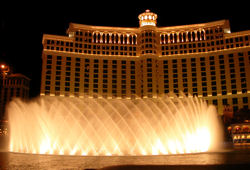 Elegance is one word that could run synonymous with Bellagio, a hotel that sits along the Las Vegas Strip, beside a pathway of trees, and fronting a lake that extends to eight acres long. Tall fountains, dancing in all their magnificence and glory, warmly greet and welcome hotel guests and awe-struck passersby.
The view outside is enough to take your breath away, but wait till you get to see the lobby of the hotel where you will see a display of the most vibrant and elegant glass flowers suspended from the 18-foot ceiling, a work of art by glass sculptor Dale Chihuly, or take a relaxing stroll at the sensational Bellagio Conservatory and Botanical Gardens, a paradise on earth.
The hotel accommodation is something else. Elegant fabrics, modern furnishings, Italian marble bathroom floors and surfaces, and state of the art amenities will definitely make your stay a truly exciting, luxurious, and memorable experience.
While there, a must see at the Bellagio Hotel is the Casino, a room that boasts of draped canopies, table games, video poker, and an interesting painting by LeRoy Neiman of poker players engaged in a game.
Artworks are prominent features at Bellagio. In fact, at the lobby for Cirque du Soleil's "O", a spell-bounding water acrobatics show, are bronze sculptors of dancers and acrobats. The Bellagio Gallery of Fine Art features a lot more artworks by renowned artists.
There are many other things you can do at Bellagio. You can immerse yourself in total relaxation at the Zen-themed Spa Bellagio, or participate in a fitness program at The Bamboo Studio exercise room. You can also enjoy a special treat at the Café Gelato or shop till you drop at the shops at Via Bellagio.
Should you wish to get married in style, you can do that, too, at the Bellagio's wedding chapel or at the Terraza di Sogno (Terrace of Dreams) that has an awe-inspiring view of the fountains.
Delight in an absolutely gastronomic experience at the restaurants of Bellagio, where the foods are a feast to the palate. Delectable French cuisine is served at Le Cirque, while mouthwatering Asian and Italian meals are offered at Sensi. Top your superb dining experience with the sweet tempting treats at Jean-Philippe Patisserie where you can find the largest and the tallest chocolate fountain in the world.
A day may not be enough to experience all the wonders of Bellagio Hotel. Nonetheless, any time spent in this elegant hotel is definitely something to cherish.
Average User Reviews