Enjoy Natural Surroundings At The Wynn Las Vegas
Hotel Rating


Filed under All Hotels, The Strip Tags: 5 Star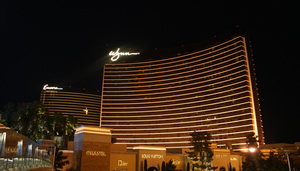 For those longing for an escape from the hustle and bustle of city life, Wynn Las Vegas offers a relaxing reprieve like no other. Approaching the 217-acre resort at the famous Las Vegas Strip, one can readily feel and hear the sounds of nature. Fronting the 50-storey hotel tower is a towering man-made mountain, while the 18-hole championship golf course designed by Tom Fazio fills the back portion of the resort. Somewhere in between are lagoons and waterfalls and stunning landscapes all screaming of the beauty of nature.
Vibrant flowers are everywhere at Wynn Las Vegas. There is an indoor atrium beside the lobby which escorts awe-struck guests into a trail of more flowers and trees. The floral theme is also evident in the 110,000 square-foot casino. Even the close to 2,000 slot machines, poker room, and table games sit on a colorful floral carpet.
The rooms are a haven of sorts. Delicate European linens cover the large beds, while flat screen TVs and a lot more occupy the comfortable and luxurious rooms. High speed internet access provides guests with a way to communicate or do business. The floor-to-ceiling windows allow an astonishing view of the panorama outside — the Vegas Strip, the golf-course, the lake and the mountain.
The beautiful boutique hotel The Tower Suites with its impeccable service and accommodation has earned the highest rating from Mobil Travel Guide.
Dining is always a satiating experience. Elegant dining at Alex, Bartolotta Ristorante di Mare, Daniel Boulud Brasserie, and SW Steakhouse feature the delicious creations of top notch chefs, such as Alessandro Stratta, Daniel Boulud, David Walzod, Rene Lenger, Masa Ishizawa, Philippe Rispoli, Richard Chen, Paul Bartolotta, Mark LoRusso, Stephen Kalt and Hisham Johari. If you want to go for a more casual dining experience, you can choose from The Buffet's 16 cooking stations to fill your stomach with. There's also Zoozacrackers close to the 195-seat race and sports book should your palate ask for New Yorkish deli, while the great American foods are being served at Terrace Point Cafe round the clock.
Cascading waterfalls on the other side of the mountain pour into the 3-acre Lake of Dreams. Here, guests can have a night of fun and entertainment, listening to music or watching multimedia shows while sipping cocktails amidst multi-colored upside-down parasols at Parasol Up or Parasol Down.
Entertaining shows are a trademark of Wynn Las Vegas. From the awe-inspiring aquatic creation of Franco Dragone, a Cirque du Soleil veteran, entitled Le Reve, to the Monty Python's Spamalot, guests are sure to have an unforgettable night.
Nightlife at Wynn Las Vegas is very popular. The boutique nightclub Blush and Tryst is a party place with a large dance floor and a private lagoon.
Outside, an attractive landscaped pool complex houses two pools, private cabanas, table games, and a special area for group functions. Should guests need spa treatments, the Wynn Las Vegas Spa has 45 treatment rooms, a salon, barbershop and a fitness center.
Shopaholics will delight in the shopping center at Wynn Esplanade, featuring signature lines, such as Chanel, Christian Dior, Oscar de la Renta, and the like. The Wynn Las Vegas resort also accommodates the Penske Wynn Ferrari Maserati dealership and showroom.
By the end of 2008, the hotel's $2.7 billion Encore Hotel will begin to amaze Wynn Las Vegas guests.
At Wynn Las Vegas, it really feels like coming home to nature.
Average User Reviews