The Treasures Of Treasure Island
Hotel Rating


Filed under All Hotels, The Strip Tags: 4 Star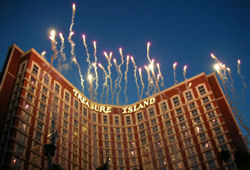 Treasure Island or TI is living up to its name. There are many treasures to be found in this luxury hotel along the world famous Strip of Las Vegas, near the Mirage and The Fashion Show Mall. These treasures come in the form of superb restaurants, casinos, extraordinary accommodation, jewels of entertainment, and anything else that makes your visit unforgettable.
TI has assumed a different image. It used to be referred to as a pirate paradise for kids, but over the years, it has transformed into something more mature and sophisticated. Returning visitors will no longer see the pirate-style marquee, but will now appreciate the chic design with the initials TI. They will also not get to see the pirate show which once entertained them to no end. Instead, they will see a sensuous display of bodies by the Sirens of TI.
Hotel accommodation is spotless, with floor-to-ceiling windows that characterize the spacious and luxurious rooms of the hotel, offering a breathtaking view of the majestic beauty of the Strip.
Guests will certainly find enjoyment in the 95,000 square-foot casino room, which has a poker room, a race and sports book, thousands of slot machines and video poker machines, and table games.
Dining is a remarkable experience, whether you choose to go to Isla Mexican Kitchen and Tequila Bar, Kahunaville, the Social House, The Buffet at TI, the Canter's Deli or The Coffee Shop. Mexican foods and drinks, including the $99 Goddess Elixir, are the specialty of Isla Mexican Kitchen and Tequila Bar. For an interesting dining experience, try Kahunaville where you can get entertained by the talented bartenders while you sip your favorite drinks. The popular Social House will be a delight to the elite group of sushi and Pan Asian cuisine lovers. Guests will also enjoy the gourmet dishes at The Buffet. For more traditional dishes, the Canter's Deli is a great hang-out place. The Coffee Shop has another restaurant inside it, a Vietnamese restaurant called Pho.
Entertaining shows raise the popularity of TI even more. The Cirque du Soleil's Mystere, is now on its second decade of providing visually stimulating and captivating performances.
Top your treasure hunting experience with a massage at Wet, the spa at TI, where you can get rejuvenating water-based spa treatments. A dip in the TI pool can be refreshing, too. The pool at TI has private cabanas as well as a party tub that can accommodate a crowd of at least 50 people. For an intimate evening, the Mist is an ideal place for romance. Then if you want to get married in style, you can do so while aboard The Song, a Sirens' ship in Sirens' Cove.
This is how far treasuring hunting goes at the amazing Treasure Island.
Average User Reviews