Paris – The City Of Lights In Las Vegas
Hotel Rating


Filed under All Hotels, The Strip Tags: 4.5 Star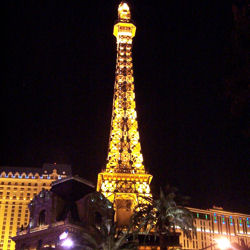 There's nothing like spending a few days in the most romantic city in the world, Paris, but do you know that you can practically enjoy Paris without actually going there? Paris Las Vegas has brought France's capital city in Las Vegas.
Fine dining, great entertainment, impeccable service, hot nightlife, remarkable accommodations, and the aura of romanticism — you'll get all these if you stay at Paris Las Vegas.
Indeed, walking into the hotel will make you feel you are in Paris, and nowhere else, with sidewalks made of cobblestone, and with the smaller models of the Eiffel Tower and the Arc de Triomphe. Actual French environs inspire the design on the facades of the building.
Street lamps line the entire casino floor, all 85,000 square foot of it. Gazing above, you will see the 40-foot ceiling painted to look exactly like a sky, giving you the impression that you are in the streets of Paris.
Paris Las Vegas' version of the Eiffel Tower is 50 stories high. Hotel guests and visitors will surely have the time of their life at the casino with over 100 gaming tables, at least 2,000 gaming machines, high limit slots, a poker room, and an enormous race and sports book. A downsized model of the Le Pont Alexandre III provides access to the Eiffel Tower elevators, which are a thrill to ride in as you get to see the panoramic views of the city outside.
At the middle of the Eiffel Tower is the famous Eiffel Tower Restaurant, where you can have an intimate, sumptuous dinner of the finest French dishes. Down at the casino floor, the Mon Ami Gabi and Les Artistes Steakhouse will excite your palate. In this particular floor, you will also get to see other restaurants that look like Parisian cafes. The Le Provencal will fill your stomach as talented food servers regale you with songs, while Le Village Buffet will serve you with traditional French cuisine in a village setting. Top this gastronomic experience with sweets and desert crepes at Le Creperie.
If you have enough cash to splurge, Le Burger Brasserie's specialty, a $777 Kobe beef and Main lobster burger, is a must try. With caramelized onion toppings, imported Brie, crispy prosciutto and century old balsamic vinegar, this is definitely a feast to the stomach.
Hotel accommodation is impeccable with spacious, comfortable, and luxurious rooms. Full length mirrors and marble bathrooms are basic features of the guest rooms.
If you've always dreamed of a wedding in Paris, the Chapelle du Paradis or Chapelle du Jardin will make your dream come true. Then, if you care for some nightlife, you will not be disappointed of you go to Anthony Cools and Ooh La La.
When you find all these overwhelming, have a moment to de-stress yourself at Mandara Spa or have a dip in the pool at the rooftop. You can also relax at Risque ultra lounge or listen to music at Le Cabaret show lounge or chill out at Napoleon's.
Whatever you choose to do in Paris, you can do it right in the heart of Las Vegas.
Average User Reviews