Palms Casino Resort: An Entertainment Hotel
Hotel Rating


Filed under All Hotels, Off The Strip Tags: 4.5 Star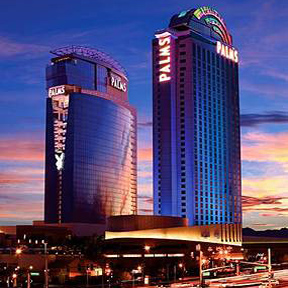 The Palms Casino Resort is strategically located right along the world famous Strip of Las Vegas. It takes pride in having housed the 12th season of MTV's "The Real World". In fact, a 2,900 square-foot suite was created especially for the cast and crew of the show.
Since then, and even after the MTV show was long gone, Palms has continued to attract music celebrities, Hollywood stars, and NBA greats. Actually, Palms have specialty suites with enormous furniture specifically for its NBA guests. Palms also play host to Bravo's Celebrity Poker Showdown. There are also two luxurious Playpen suites complete with stripper poles and all to hold bachelor and bachelorette parties.
A significant addition to the Palms Resort is the Fantasy Tower forty stories high. The tower consist of standard guest rooms and fantasy suites, such as the Celebrity Suite, the g Suite, the Crib Suite and Hot Pink Suite.
Atop the Fantasy Tower are six Sky Villas, each with outdoor pools with a panoramic view of the city beyond; also at the Fantasy Tower can be found the famous night spot, The Moon Nightclub, and an Italian restaurant, Nove Italiano.
Palms makes sure you will never get hungry while having your stay there. You can have a bite of gourmet meals at Alize, or you can satiate your food cravings at the Little Buddha, which is appropriately decorated with gold, crimson and celadon, and a big Buddha statue.
Nightlife is sizzling at the Palms. The Ghostbar, for one, has an open air deck overlooking the Strip. Some fifty five stories below it is Rain Las Vegas, a modern nightclub with 1,500 seats, frequented by celebrities and party addicts. The Playboy Club and the Moon Nightclub are bustling with people.
You can also visit The Pearl, a theatre and a concert venue, or take a look at The Studio which attracts music artists everywhere to record their songs.
If you get tired of dancing all night at the hotel's nightspots, you can have a massage at the 20,000 square-foot spa or take a refreshing dip in the pool outside the hotel. You can also relax at the 14-theatre Brendan Theatres complex or do something out of the ordinary like getting a tattoo at Huntington Tattoo Company, the one and only tattoo parlor within a hotel in Vegas.
Reading through all these features, it is no wonder Palms Casino Resort is labeled as an entertainment hotel.
Average User Reviews