Experience The Big Apple In Las Vegas
Hotel Rating


Filed under All Hotels, The Strip Tags: 4 Star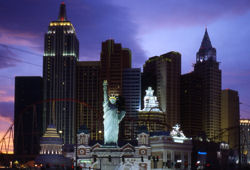 Visitors in Las Vegas will get a feel of the excitement and thrill of New York at New York-New York Hotel and Casino in the heart of the Strip of Las Vegas.
Visiting the casino alone will already make you feel you are taking a walk along New York's famed Central Park, with artificial streams and trees and a bar in the middle of Times Square surrounding it.
The people of New York love food and this is evident in the number of restaurants at New York-New York Hotel and Casino. The freshly baked breads of the Italian-inspired restaurant, II Fornaio, will have you look forward to breakfast every morning. If you care for Mexican food, The Gonzalez y Gonzalez Café will spice up your appetite.
The Village Eateries is an exact replica of the streets of New York, complete with manhole covers and all. At Village Eateries you can grab a bite of traditional New York street food like pizzas, deli sandwiches, hot dogs, and Coney Island, and feel what it is like to be in New York.
New York-New York is a family hotel where both kids and adults can appreciate its lavish offerings, be it in the form of food, entertainment, amusement, and the like. Kids and the young at heart will certainly enjoy a thrilling ride at a speed of 67 miles per hours per hour aboard The Roller Coaster. They can also ride all they can in bumper cars, or play without limits the laser tags and arcade games which compose The Coney Island Amusement Center.
For the adults, the signature show Zumanity by Cirque du Soleil will give them an entertainment like no other. They can also enjoy the nightlife at New York-New York. Hot spots such as The Nine Fine Irishmen, Coyote Ugly and ESPN Zone are bustling with activity.
There's also a spa at New York-New York where you can have an ultimate spa experience, while The Regis Signature Salon will give your tresses a treat. You can take a relaxing dive in the pool or shop till you drop in many of the hotels shops.
All of New York's best landmarks, such as the Empire State Building, the Statue of Liberty, the Brooklyn Bridge, Central Park, Time's Square and many more are featured in this great hotel and casino.
Indeed, the New York-New York Hotel and Casino is the next best thing to the Big Apple.
Average User Reviews