Mirage: A Hotel Like No Other
Hotel Rating


Filed under All Hotels, The Strip Tags: 4 Star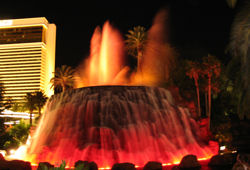 It may be an unusual to find a rainforest at the heart of Las Vegas, nonetheless it can be the most refreshing experience. The Mirage is one of the luxury hotels that sit along the Strip of Las Vegas. Its tropical surroundings are so inviting and calming to the senses.
A flourishing rainforest warmly welcomes guests at the front entrance. Lush tropical flowers and palm trees, and the cascading waterfalls will make you feel you are right in a paradise destination like Bali.
A large aquarium at the front desk is a feast to the eyes of hotel guests. With 20,000 gallons of saltwater, the aquarium houses at least 1,000 marine life forms, such as sharks, eels, stingrays, porcupine fish, sea bass, and puffer fish. A concierge is readily available for hotel guests and, practically, for anyone needing it.
The guest rooms are comfortable and relaxing, and from which you can view the landscaped pools with waters so temptingly clear and blue. There is also a private pool club called Bare where you can literally bare your body and bask in the glory of the sun's early morning rays.
If the large aquarium and the tropical forest at the lobby are not enough to delight your senses, Siegfried and Roy's Secret Garden and Dolphin Habitat will surely take your breath away. This immensely astounding attraction of The Mirage provides a natural environment for exotic and rare animals.
The Mirage prides itself of its casino. A pioneer in the gaming industry, The Mirage has thousands of slot machines, one of Vega's more popular poker rooms, a variety of table games and a larger than life race and sports book. Glass sculptors by renowned glass artist Dale Chihuly beautify the Baccarat Lounge and the nearby high limit lounge.
Food lovers will certainly take pleasure in the several restaurants at The Mirage. The sumptuous foods served at the Carnegie Deli, the Cravings, Fin, and the Samba Brazilian Steakhouse will satisfy your appetite to no end.
If you are not dining or playing at the casino, you can go shopping in the hotel's 90,000 square-foot shopping area or relax at The Mirage Spa, or get a hair trim at the Kim Vo Salon. You can also get superb entertainment by watching The Beatles Love by Cirque du Soleil in The Mirage theatre. Finally, cap all these with dancing at the hotel's prime night spot, the Jet.
The Mirage is definitely a hotel like no other.