A Grand Vacation At The MGM Grand
Hotel Rating


Filed under All Hotels, The Strip Tags: 4 Star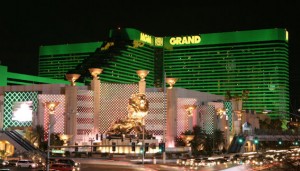 There is nothing ordinary about MGM Grand. In fact, the moment you enter its lavish premises, you can easily see why it took $1 billion dollars to develop.
The MGM Grand is already a city within a city. Located right across the New York-New York Hotel, this 5,034 room hotel and casino offers superb accommodation, glamorous shows, extraordinary dining experience, a modish nightlife, and many things besides for an ultimate Vegas experience.
MGM Grand is known for its great restaurants. Treat your palate to the most exciting blends of the finest French ingredients at Joel Robuchon at The Mansion or the L'Atelier de Joel Robuchon. Also, because great food does not have to be complicated, you will definitely enjoy Craftsteak's pure and simple steak dishes. Truly mouthwatering and flavorful, these dishes will have you asking for more. If you are a seafood lover, Michael Mina's Seablue and Nobhill are a must try, or if you long for the flavor of New Orleans, then Emeril's New Orleans Fish House is sure to satisfy your cravings. You must also try the chic, classy, and sophisticated menus at Fiamma Trattoria and Pearl as well as the exciting new taste of Wolfgang Puck Bar and Grill and the fun offerings at Rainforest Café.
MGM Grand is also called the city of entertainment. Indeed, the shows at MGM Grand are something to watch and glory in. Take pleasure in the sexy choreography of the Crazy Horse Paris, or delight in acrobatic performances in KA by Cirque du Soleil. MGM Grand also has an arena which houses concerts, championship boxing and other sports activities, the MGM Grand Garden Arena.
If you are a night person, then you will surely enjoy the nightlife at MGM Grand. MGM Grand houses two of the hottest night spots in Las Vegas, Tabu, also the first ultra lounge in Vegas, and Studio 54. Try dancing the night away in these two popular night spots and anything else will pale in comparison.
Aside from the food, the shows, and the nightlife, MGM Grand also boasts of its topnotch spa where you can feel relaxed and rejuvenated, its magnificent pools measuring 6.6 acres, and of course the astounding Lion Habitat which pays tribute to the kings of the wild, the lions.
The glitz, the glamour, the entertainment, the food, the spa — anything and everything you have ever wished for are all here at MGM Grand.
Stay at MGM Grand for the grandest vacation ever!
Average User Reviews