Mandalay Bay: A Tropical Paradise in Vegas
Hotel Rating


Filed under All Hotels, The Strip Tags: 4 Star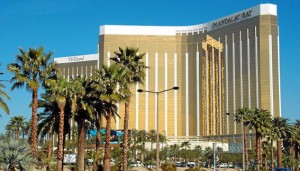 If you are in Las Vegas for work or for pleasure, staying in a premiere hotel like Mandalay Bay Resort and Casino will certainly suit your fancy. Truly, this tropical paradise at the southern portion of the Las Vegas Strip offers its visitors an accommodation that makes them feel like royalty, a wide range of entertainment options, and an array of world-class amenities to treat the eyes and the stomach.
Dining is at its finest at the Mandalay Bay Resort and Casino. The Russian-style Red Square Bar with a headless statue of Lenin, offers Russian favorite dishes such as Siberian Nachos, Roquefort Filet Mignon, Strozapretti Stroganoff, Salmon Kulebyaka and Certified Angus Rib Eye. If you opt for Asian foods, China Grill is a must go-to place. Feast on its tempura, lamb spareribs, spicy shallots and cilantro, and more. For an elegant dining adventure, dine at the traditionally French Fleur de Lys which features fine French cuisine.
The nightlife at Mandalay Bay is hormone-raising. Catch the go-go girls and the great wall of fire and dance the night away at Rumjungle, recognized as one of the best nightspots in Las Vegas. Entertainment is also at its best at Mandalay Bay.
The Mandalay Bay Theatre features the Broadway hit Mamma Mia, while the House of Blues has musical greats like Bob Dylan, Anthrax, and many more rocking the house. There's also a Sunday Gospel Brunch, which offers traditional Southern food along with great music. The Mandalay Bay events center is a perfect venue for sporting actions, and musical acts.
Ocean lovers will definitely love the $40 million Shark Reef, home to 100 species of marine animals, such as jellyfish, crocodiles, turtles, and string ray, while outside the hotel, guests and visitors can take a leisure walk, laze out along the river or surf the waves.
You can do many other things while at Mandalay Bay. You can go shopping for souvenir items at the resort's shopping center, Mandalay Place, or have a relaxing spa treatment at Spa Mandalay.
The hotel is the newest baby of Mandalay Bay. It is a boutique hotel with luxurious rooms that offer a relaxing and comfortable environment for the body and the soul. THEhotel is a perfect place for those looking for modern surroundings to relax in.
With fountains, sculptures, marbles and flowers as its characteristic features, Mandalay Bay Resort and Casino certainly is one tropical paradise in Las Vegas.
Average User Reviews