Get Royal Treatment At Excalibur
Hotel Rating

Filed under All Hotels, The Strip Tags: 3 Star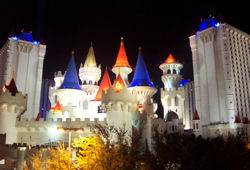 If you are looking for royal treatment, the best place to get one is at Excalibur Hotel and Casino, propped regally at the heart of the Las Vegas Strip, specifically between the New York skyline and the Egyptian Pyramid.
Through the years, Excalibur has undergone some changes. Gone are the colorful and bright interiors of the hotel. The more subdued tones in shades of blue and brown now delight the eyes of hotel guests and customers. Gone, too, are some of the heavy chandeliers at the Casino, allowing natural light to shine through.
The 1,000 rooms that compose the Excalibur Hotel and Casino have all been remodeled and furnished with modern and state of the art amenities, such as a 42-inch flat screen television, and an alarm clock with iPod inputs. The large bathrooms have granite surfaces, and the standard rooms have become more comforting than ever.
A particular attraction at the Excalibur Hotel is the 100,000 square-foot casino with original stained glass panels of scenes from medieval times up on the ceiling. Here you can choose from a wide array of slot machines, video poker machines and table games. Don't worry if you are budget conscious; there are many games you can enjoy for as low as 1 centavo. There are private areas for high-limit slots and table games, too, should you desire a little more privacy. There is also a 145-seat race and sports book which you can watch while ensconced comfortably in large, cushioned chairs. For the horse racing side of the book, there are much taller chairs to make it easier for bettors to get to their feet to the rhythm of the action.
Getting around the Excalibur Hotel is made easier by escalators and elevators. At the upper portion of the hotel are restaurants such as The Steakhouse at Camelot, Regale, and The Roundtable Buffet, the Octane Lounge that has a motorcycle theme, a showroom, shops, and a food court. This floor also houses the Canterbury Wedding Chapel.
The lower portion of the hotel is a gaming area. Here you can find fun and festive games, and video games for the little tots and the young at heart. The Spongebob Squarepants 4D Ride under the sea is an exciting adventure you should not miss.
You will never get hungry at Excalibur even if you are playing at the casino all night long. There is an almost unlimited supply of food and drinks at Dick's Last Resort, and the Sherwood Forest Café will fill your stomach with mouthwatering delights all throughout the day.
For the health buffs, there's the Royal Treatment Spa and Fitness Center where you can indulge in relaxing spa treatments.
If you want to experience how it is like to be a King and Queen for a day, stay at Excalibur Hotel and Casino where you can get the best royal treatment ever.
Average User Reviews