Feel Like A VIP At Caesar's Palace
Hotel Rating


Filed under All Hotels, The Strip Tags: 4 Star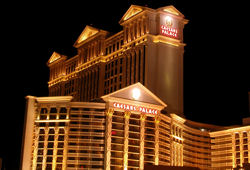 At the very center of the Strip of Las Vegas lies the grand Caesar's Palace, a world-class travel destination for gambling, dining, shopping, entertainment and more. Existing for over half a century already, Caesar's Palace continues to attract visitors from all over the world, with its utmost gaming choices, Roman-style furnishings, elegant statues, and its award-winning restaurants.
The casino is a magnet to the wealthy, the powerful, and to the celebrities. Go-go dancers gamely perform in bronzed cages while games are going on at the Pussycat Dolls- themed gaming area. Somewhere a bit more private is the poker room, the largest in all of Las Vegas, measuring about 14,000 square feet. This non-smoking area, where NBC's "Heads Up" Poker Tournament takes place, contains 29 live tables and is decorated with LeRoy Neiman paintings, photos by sports photographer Neil Leifer, including his very famous shot of the boxing great Muhammad Ali's victory over Sonny Liston in 1965, and portraits by poker fanatics.
The Forum Tower, the Roman Tower, the Centurion Tower, the Palace Tower, and the Augustus Tower compose Caesar's Palace. The Augustus Tower houses the restaurant of celebrated French Chef Guy Savoy, as well as three wedding chapels, Color Salon by Michael Boychuch, and the Qua Baths and Spa that has an ambience to soothe and calm tired and stressed out nerves.
A sixth tower, the Octavius Tower, is slated to open in 2009. The Octavius Tower will be 23 stories high and will boast of 665 magnificent hotel rooms, as luxurious and stylish as the rooms in the other towers.
Caesar's Palace also takes pride of its 4.5 acre Garden of the Gods pool complex, which will have an additional of three new swimming pools come 2009. Overlooking the Garden of the Gods pool complex is Raos, a Southern Italian restaurant that can double as a wedding venue.
Caesar's Palace gives importance to detail especially when it comes to the restaurants it introduces on its property. Payard Patisserie & Bistro is an absolute must-try especially for those craving for sweet treats. Payard has a chocolate shop, a crepe station, and a variety of chocolates goodies for the chocoholics. Whether you prefer American cuisine, French cuisine, southwestern cooking or seafoods, you are guaranteed a great dining experience anytime, all the time.
You'll never get bored at Caesar's Palace. Even if you are not much into gambling, there are entertainment shows, featuring Bette Midler, Cher, Elton John, and many other celebrity singers, you can watch and enjoy at the 4,100-seat Colosseum. You'll definitely take pleasure in the nightlife there, too. Going to the Shadow Bar and the Cleopatra's Barge Nightclub will give you an experience you are not likely to easily forget.
The accommodation at Caesar's Palace is impeccable. Whatever you do or whatever tower you choose to stay in, you are sure to get VIP treatment at Caesar's Palace.
Average User Reviews